Andhra Pradesh State Council Of Higher Education in association with the Sri Venkateswara University notified the AP ICET Notification 2018 For providing the Higher Education For the Graduates into MBA and MCA in Andhra State the aspirants need to register for the AP Integrated Common Entrance Test 2018 Notification through sche.ap.gov.in/icet in Online until 14th April 2018 and with Late Fee until 24.04.2018 and the Exam Will be conducted for the students in various Centres of Andhra Pradesh on 02.05.2018
AP ICET Notification 2018
Andhra Pradesh ICET 2018 Notification: SV University announced the AP ICET 2018 Notification on behalf of the Andhra Pradesh State Higher Education Council on 11.03.2018. So, Degree/ Graduate Holders who seeking for their Masters in Andhra Reputed and Other Colleges for the MBA(02 Yrs) and MCA(03 Yrs) Courses need to check the Notification which is given here clearly on the site Jobschat.in. In addition to the Details, we also informed the Model Papers, Syllabus and Mock test for the Candidates to know the ICET Exam Pattern here. All the Employable Aspirants must apply for this in Online from 16.03.2018 to 14.04.2018(without late Fee) and 24.04.2018(Late Fee). Those who qualify for this AP ICET Entrance Exam only can take part in the Counselling and can give the options for their Choice of Colleges.

Also, Check: TS ICET Notification 2018
Andhra Pradesh ICET Entrance Exam 2018 Notification
Coming to the AP ICET 2018 Entrance Notification, Both the Degree and Bachelors Degree can apply for this to get entry into both MBA and MCA Fields. But, the aspirants need to apply for this in Online by paying a fee of Rs.550/- without any late on or before 14.04.2018 and with Late Fee of Rs.2,000/- along with Reg Fee before 24.02.2018. The SU university is conducting the Andhra ICET Exam for the year 2018. It also issued the complete information here and the aspirants need to apply and can go through the Model Papers in order to face the Exam which is conducted on 02.05.2018 in all Districts of AP. And the Candidates who are appearing for the Competitive exams also apply for this as the exam is conducted similarly to Government Jobs.
AP ICET Notification 2018 Overview
ఆంధ్రప్రదేశ్ స్టేట్ కౌన్సిల్ ఆఫ్ హయ్యర్ ఎడ్యుకేషన్ శ్రీ వెంకటేశ్వర యూనివర్శిటీతో కలిసి AP ICET నోటిఫికేషన్ 2018 కి నోటిఫికేషన్ ఇచ్చింది. ఆంధ్ర రాష్ట్రం లో MBA మరియు MCA లోకి గ్రాడ్యుయేట్లకు ఉన్నత విద్యను అందించడానికి గాను AP ఇంటిగ్రేటెడ్ కామన్ ఎంట్రన్స్ టెస్ట్ 2018 నోటిఫికేషన్ కొరకు రిజిస్ట్రేషన్ చేయాలి. 2018 ఏప్రిల్ 14 వరకు మరియు ఆన్లైన్లో లేట్ ఫీజు 24.04.2018 వరకు మరియు పరీక్షా కార్యక్రమాలను ఆంధ్రప్రదేశ్ లోని వివిధ కేంద్రాలలో 02.05.2018 న నిర్వహిస్తారు.
Name Of Board: Andhra Pradesh State Council Of Higher Education(APSCHE)
Name Of The Exam: Andhra Pradesh State Integrated Common Entrance Test(AP ICET)
University Name: Sri Venkateswara University(SVU), Tirupathi
Category: University Entrance Examination
Notification Issued Date: 11th March 2018
Mode Of Application: Online
Apply Start Date: 16th March 2018
Apply End Date(without late Fee): 14th April 2018
Apply End Date(With Late Fee): 24th April 2018
Exam Date: 02nd May 2018
Answer Keys: May 2018
Results: Last Week Of May 2018
Rank Cards: June 2018
Counselling Dates: July 2018
Official Website: www.sche.ap.gov.in/icet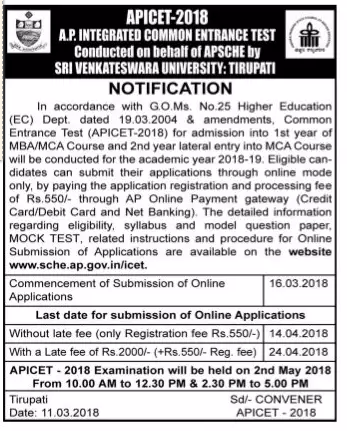 Also, Check: AP Postal Circle Postman Recruitment 2018
AP ICET 2018 Notification Stipulations
Educational Qualifications:
Candidates who want to opt their Higher Education after Degree/ Engineering into MBA/ MCA must possess the Stipulations that are informed here i.e similar to the AP Integrated Common Entrance Notification 2018 and direct entry is provided for 1st year MBA and 02nd Year MCA.
For MBA: Must have a Graduate Degree/ Degree(03 Years) in any discipline and must also possess Mathematics as one of Subject in Mathematics.
For MCA: Must have a Graduate Degree/ Degree(03 Years) in any discipline with 55% of marks.
Final Year Pursuing Aspirants can also apply for this APICET 2018 Notification.
Age Limits:
Candidates applying for the Andhra Pradesh ICET 2018 Notification must have the age limits minimum of 20 years and maximum as per the notification.
Application Fee:
All the Candidates who want to apply for AP ICET 2018 Notification must pay a Non-Refundable Fee of Rs.550/- before the due date i.e 14.04.2018 in Online mode and With a late fee of Rs.2,000/- and Reg Fee Rs.550/- before 24.04.2018.
Selection Procedure:
Candidates get Entry into MBA and MCA Courses in their choice of Colleges in Andhra Pradesh based on the Online Written Test and Counselling Centres.
How To Apply AP ICET Notification 2018:
First Interested And Final Year pursuing Degree Candidate can open the site sche.ap.gov.in/icet
First, select the AP ICET 2018 Tab and open the AP Integrated Common Entrance Test 2018 Notification information tab and Read it carefully by 

downloading

 it.
Then on Homepage find the Fill Application Form link available.
Start the Application process with the help of applying link and fill the required columns by adding the required documents.
Also, pay the fee, Recheck the application and submit in Online.
Take a Hard Copy of it and use in for future correspondence.
Important Dates:
Notification Released On  11.03.2018
Apply Start Date: 16.03.2018
Apply End Date(without late Fee): 14.04.2018
Apply End Date(With Late Fee): 24.04.2018
Check AP ICET Online Application Form, Eligibility, Useful Dates
AP ICET Online Application 2018 is available on sche.ap.gov.in/icet to apply and the Final Year Degree/ B.Tech Contenders can apply for this from 16.03.2018 onwards and for the applied candidates only the Examination is held by issuing the Hall Tickets also here. And SU University conducts the Counselling centres and based on the Score Achieved by Graduates the Seat allotment is done. Because some of the candidates write it for getting a good seat in Top colleges and some for obtaining the Reimbursement. So, the contenders also visit the Jobschat.in site after the Examination to check the ICET Results, Rank Cards and Counselling dates also.
Official Links:
Official Andhra Pradesh ICET Notification 2018
AP ICET Notification 2018 Online Registration Form